You need a new skin because yours is torn or doesn't sound right anymore? With pleasure!

Change of skin including new skin costs 100, € (But please note that this price is only valid if the djembé does not make any "antics". This means e.g. the rings do not really fit, the wood has to be worked on etc.)

Therefore I can only tell you the exact price after an examination of your drum.

If your djembé needs new string - why not add some colour to your life and your drum?

The replacement of the complete string at the rings and the tension cord costs 50 € plus material costs for the string and ring wrapping.
Colourful string or rather colourful skin? Many things are possible, let's be creative!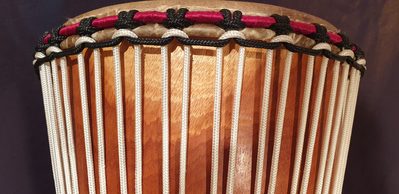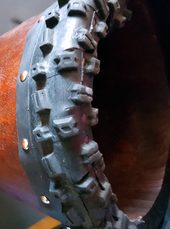 Bicycle or wheelbarrow tyres protect the foot of the djembé and are also helpful on slippery floors.

Note, however, that when you remove this protection, small holes remain from the nails, which are not necessarily noticeable, but are still visible.

My own djembés all have tyres...

If you want to give your djembé even more profile - I can do that for 25,-

Or you can reach for the tyre yourself ;-)
You do not live near Munich (Germany)? No problem, you can also send me your djembé. But before you do that, please contact me!